Directions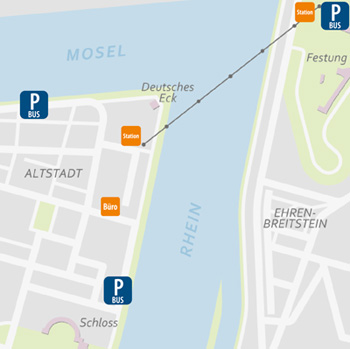 Lower station
Konrad-Adenauer-Ufer
56068 Koblenz
Upper station
Greiffenklaustraße
56077 Koblenz-Ehrenbreitstein
Office
Rheinstraße 6
56068 Koblenz
The cable car's lower station is located within the city on the banks of the Rhine, behind the Basilica of St. Castor and very close to Deutsches Eck. The upper station is situated very near to the entrance of the Ehrenbreitstein Fortress.
Parking in the city centre
Coaches should use a dedicated coach park outside the city centre between drop-off and pick-up, as the waiting time at the pick-up/drop-off points on the banks of the river Moselle is limited to 30 minutes.
Free and signposted, close to the city centre: Pastor-Klein-Strasse 4; alternatively, you can park near the fortress grounds: Niederberger Höhe (former 'BUGA' car park).
Car parks in the city centre near the lower station:
Am Görresplatz car park, Schloss car park, Schängel Center underground car park. You can find further information at: http://www.koblenz.de/wirtschaft_verkehr/parkhaueser_neu.html
Parking at Ehrenbreitstein Fortress:
Parking in combination with an admission ticket to the fortress (day/season/combination ticket):
€ 0.60 for each hour (or part thereof)/ Don't forget to present your parking ticket for the reduced rate in the entrance hall during opening hours.
Parking without an admission ticket to the fortress:
€ 1.20 for each hour (or part thereof)
Access via Koblenz-Ehrenbreitstein, Niederberger Höhe (GPS: Greiffenklaustrasse).
Bus
Bus route 1 from Koblenz main railway station (bay D) to bus stop "Deutsches Eck", or 30 minutes on foot. Alternatively, 20 minutes on foot from railway station "Koblenz Stadtmitte" railway station, e.g via Schlossstrasse (footpath marking: red columns).
Footpath from the city centre
Route marked by red columns to Deutsches Eck and cable car. Ferries operate from the districts of Ehrenbreitstein and Lützel during the day (from April to September).
Bicycle
Along the Rhine or Moselle rivers following the signs to Deutsches Eck.
Boat
Regular passenger ferry Ehrenbreitstein-Koblenz-Ehrenbreitstein

March and April: 9 am – 6 pm
May to November: 9 am – 7 pm (Sundays from 8.30 am for passengers of the Goethe)
Ferry operator: Gilles
Excursion and scheduled boat trips
Landing point near the cable car (from April to the end of September).
River cruise ships on the Moselle side
Walk along the Moselle to Deutsches Eck and then a few steps upstream along the Rhine (approx. 10 minutes).